Why Is ColoClear™ The #1 Choice for Colon Cleansing?
Read this important information below to discover how ColoClear™ can optimize colon cleansing and detoxing, like never before.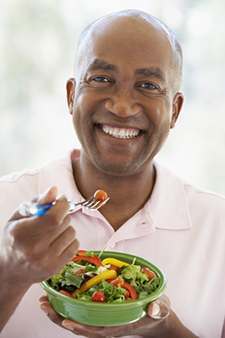 ColoClear™ is known as the ultimate, 100% natural colon cleanse formula today. Thousands of our customers are thrilled at how they have improved their intestinal health since using ColoClear™ In fact, they're so happy that they told us they'll never buy any of the 'cheap chemical-based alternatives' ever again. Here's why:
You see, most colon cleansers contain only a few key ingredients important for cleansing and detoxing. Which is why the 'chemical based alternatives' everyone buys in pharmacies might provide short term relief for constipation for example - but that uncomfortable bloating, gas pain and lethargy will always come back. Sometimes they don't even work at all. Isn't it time you had total relief that's 100% natural?
Most colon cleansing alternatives have less than top-notch purity, and are packaged in an improper dose. Only ColoClear™ has it all. ColoClear™ was developed to adhere to the strictest quality standards and contain more effective and bioavailable ingredients than any other product, hands down. Which is why people are calling it the 'Ultimate Colon Cleanse'.
ColoClear™ unique formula utilizes 12 extensively researched ingredients that are at the top of their respective health goals in terms of quality standards, scientific research, and purity. We recommend comparing the ingredients in ColoClear™ with the competition. We are confident that you will not find a better solution for optimizing colon health on the market.
ColoClear™ Follows the Highest Quality Standards

ColoClear™contains 12 tested ingredients that meet the strength and purity guidelines of the USP/NF (United States Pharmacopeia National Formulary). It is manufactured in the United States in an FDA registered laboratory that exceeds industry standards. Our manufacturing facility is GMP-certified and abides by the strictest FDA recommendations.
ColoClear™ is the Best Colon Cleanser Supplement on the Market
Gentle Effective Internal Cleansing
Ultimate detox & cleansing of toxic waste
Balance pH Levels & Healthy Bacteria
Regulate proper levels for good intestinal health
Regulate Bowel Movements
Stimulate peristalsis movement to avoid constipation & bloating
Boost metabolism & Energy Levels
Promote fat burning properties & increase weight loss
100% Risk-Free Results
Feel confident and secure with our 100% money back guarantee
ColoClear™ Provides Effective Internal Cleansing
Colon cleansing dates back many years and fundamentally involves methods to help expel contents of the colon. There are two main methods of cleansing, one is using supplements to administer orally and the other is visiting a practitioner to undergo a procedure called colonic irrigation. People are driven to cleanse their colon in order to remove non-specific toxic waste from the colon and intestinal tract, that many believe to be the root cause of a range of diseases and illnesses. Symptoms of what some call auto-intoxication, can include headaches, fatigue, loss of appetite and irritability. We believe it's time to end this epidemic of living in constant discomfort.
For these reasons, it's crucial to have an effective gentle colon cleansing remedy that works. So you can optimize intestinal health, once and for all.
ColoClear™ stands above other solutions by addressing the problem at its root. ColoClear™ is a painless, risk-free alternative to prescription drugs and the many negative effects they're known for. It's a unique, maximum strength, unique blend of ingredients that is specially formulated to provide gentle yet effective cleansing, relief and prevention.
ColoClear™ is Recommended by Doctors and Medical Scientists:
What Do ColoClear™ Customers Have to Say?
All testimonials reflect the range of typical results that our customers experience.
Comment by: Erica K.
I have tried many products for cleansing, some gave me terrible cramps for days, others didn't work at all. A friend recommended ColoClear™ as she had found success using it, so I decided to give it a go, especially as the ingredients were all natural. It worked very quickly but very gently. Amazing! No cramps at all, but it did the job. I found that since taking this, the bloating that I used to suffer with, has completely gone. I feel so good taking this. Finally, a supplement that gives me exactly what it says it does and exactly what I need. And its NATURAL!!!!
Comment by: Sally B.
I have suffered with IBS for as long as I can remember. I suffer all the classic symptoms but the most difficult for me to deal with is the pain and bloating. I have tried many things but nothing really lasts any length of time, the symptoms just kept coming back. That was, until I discovered ColoClear™. I take it exactly as they suggest and it has turned my life around. No more bloating at all and the pain, when it does happen, is minimal. I am regular, daily, and generally feel healthier. I even lost weight - a big bonus. I couldn't be happier. Five Stars!
Comment by: Joe K.
This supplement has drastically changed my outlook on intestinal problems. I can honestly say I thought I would never get relief from excessive gas. I accepted that it was part of my life but boy, was it debilitating at times. I have even refused social invitations because I was afraid of what my body was capable of doing to embarrass me. I knew I had a problem but the doctors could not find anything specifically wrong with me. I had tests for every allergy going, I cut out dairy and even became vegan for a while. Nothing really helped. I did hours of research and found certain ingredients that were meant to help - most of which I found in ColoClear™. I didn't hesitate to purchase it, especially as they have a money back guarantee if I wasn't happy, I couldn't lose. And I didn't! This has changed my life. I no longer suffer - at all. Thank you!!
Comment by: Debbie C.
ColoClear™ actually works. I have tried many many many treatments over the years, with little to no effect. This incredible formula stops constipation by keeping me regular. It is so subtle that I don't have any side effects at all, no cramping or pain. To me it's such a relief to not feel so sluggish and tired all the time because I can't go to the bathroom. All that toxic waste was poisoning me and affecting my health, now....it's a very different story. I feel so good.
Comment by: Bruce S.
This is truly amazing! It really works! It does what it says on the bottle - gently and effectively. I use this every 6 weeks and I feel AMAZING!
Comment by: Pat R.
I love the fact it is all natural and that it works so well. I'm in a win-win situation. I have suffered greatly with stomach problems for years. I first came across this when my doctor recommended taking it as an alternative to having colonic irrigation. It worked well and ever since I use this every day. When I feel I need a boost, I take double the dose. Life Saver! Thank you!
Comment by: Roberta M.
Sometimes I feel like I need a good clear out, crude I know, but true. So I wanted something natural to help me achieve this without making my body lazy. ColoClear™ is that something! Love this product! If you want to feel lighter and healthier, you definitely want to try this.
Comment by: Melissa B.
I would like to write a recommendation for ColoClear™. I bought this for my teenage daughter who suffers from constipation regularly. I felt the natural ingredients were OK for her to use. I did not want a prescription medication. No way. She has been using this daily for almost two months. To date, she hasn't suffered with an episode of constipation since. I think it really did the trick, because she seems so happy, she's happy, I'm happy. We will re-order for the rest of the year! This is the best product on the market!!
Comment by: Martina M.
This has all the ingredients that you need for an optimal colon cleanse. What a difference this product makes! I don't know what I would do without it. Five Stars.